AAUW Scholarship winners – 202

2

HERE ARE THE 3 SCHOLARSHIP RECIPIENTS FOR 2023.each recieves 2000 dollars

Ella Glover attending Stetson University
Karolina Thomas attending University of Florida
Allison Smith attending Cornell University
scholarships 2022
  YULI PASCUAAL-DIEGO   SOUTH FORK  CHEMICAL ENGINEERING
  SHANNON SKINNER  JENSEN BEACH HIGH SCHOOL  MECHANICAL AEROSPACE ENGINEERING
  ALLISON DOBBINS   MARTIN COUNTY HIGH SCHOOL   AEROSPACE ENGINEERING.
22 Scholarship Recipients  with their mothers May7th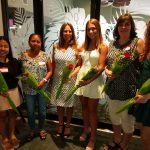 2021 SCHOLARSHIP WINNERS(l-r) Julia Rose Hochstein, Martin County HS, Hope Donow, Jensen Beach HS, and Weiyu Wu (Rachel) South Fork HS.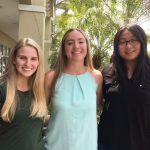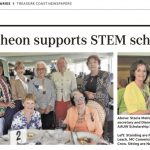 Link to the article about our STEM scholarships
https://www.allthingstreasurecoast.com/gallery/Martin-County/aauw-luncheon-funds-stem-scholarships.html
Scholarship Winners 2020
The following Martin County High Scholarship winners are:
South Fork …Cassidy Fowler …. University of Florida…Major-Medical Dietetics
Martin County…Coral Strohl …. IRS College… Major-Microbiology
Jensen Beach…Marley Johnson…University of Florida…Major-Bio-Medical Engineering
Usually AAUW has a Scholarship Brunch for our winners and family.  Due to the COVID19 virus this was cancelled.  Each winner will receive a 2000 dollar scholarship to the college of their choice.
Last Year's winners 2019
Scholarship Brunch May 2019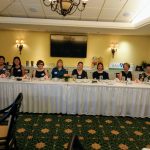 In May, 2019 our scholarship winners had a brunch at the Mariner Sands Country Club  restaurant.  Each graduate was awarded a 2000 dollar scholarship to the college of her choice. Congratulations to our winners!   The winners were: Anna Lu, South Fork HS, Alyssa Wise, Jensen Beach HS, Andrea Reyes- Rodriquez, Martin County HS.   Thanks to Mary Brower and Barbara Wade for arranging this scholarship event.
Two Martin County middle school students will be attending a Tech Trek Camp in Boca Raton FAU campus.  Mia Ferrari and Graeson Gajewski will be living on FAU campus where they will attend classes, field trips and lectures by professional women in the STEM field.
Carpool Caravan to Indiantown
On Tuesday, October 29th The Stuart area branch attended an interesting powerpoint presentation on the history of Indiantown. Our narrator was Carol Matthews Rey.
Afterwards ate delicious southern cooking at the Seminole Inn for lunch. The Indiantown Mayor answered our questions about Indiantown which is a unique environment.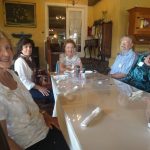 Article from TC Palm about our STEM scholarships 2017
https://www.tcpalm.com/story/specialty-publications/your-news/martin-county/2017/06/07/stuart-aauw-awards-stem-scholarships/378798001/
News